I vividly remember waiting to get his book autographed in my college auditorium. His presence brought about a different aura amidst us students, then. His humble and smiling figure made me wonder how could he manage to do all things that were given in his felicitation speech.
We were in the initial years of college in Madurai. Sketching was a part of architecture curriculum under the subject visual graphics if am not wrong. Those were the times I was learning to observe the object as it is. Sketching to me is interpretation of your perception of the object in its surrounding in front your eyes. How light falls on a tree in our department courtyard and gets scattered and diffused as it hits the ground, how the ripe banana's yellow skin glows on one side with light falling on it, the other side there was the same colour rendered in an altogether different hue – there were such learnings, understanding and observation happening. All getting interpreted on paper in the form of pencil strokes.
I believe whatever we create as humans, the creation trespasses our souls either deliberately or unconsciously before it is given /pronounced out through any form – be it art, words, crafts or design or anything.
And there were we, as young students meroxing the original object in front of our eyes. It was during those pristine early years of my college days Manohar Devadoss Sir was invited for a conference.
Anyone who has toured around Madurai or been to the temple city is bound to leave with an imprint of the memory of her historic heritage that she boasts of as an intangible souvenir.
Manohar Devadoss sir had his own way of interpreting this city and Chennai via pen and ink renderings, the only difference being his visually stunning drawings that depicted intricate details and depth were all done with his visual impairment. Besides his artistic talent, what I inferred and got inspired from him was his grit, determination to shrug off the hurdles and march towards doing what he loved most. Adding to the legacy of his books and drawings were his philanthropist deeds as well.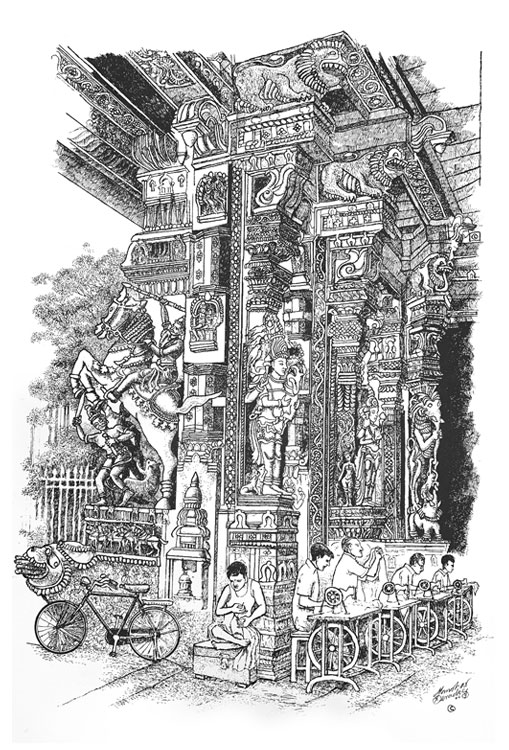 Art work taken from @manohardevadoss instagram profile
 Adieu Sir! Heaven got luckier with you than Earth with your departure!